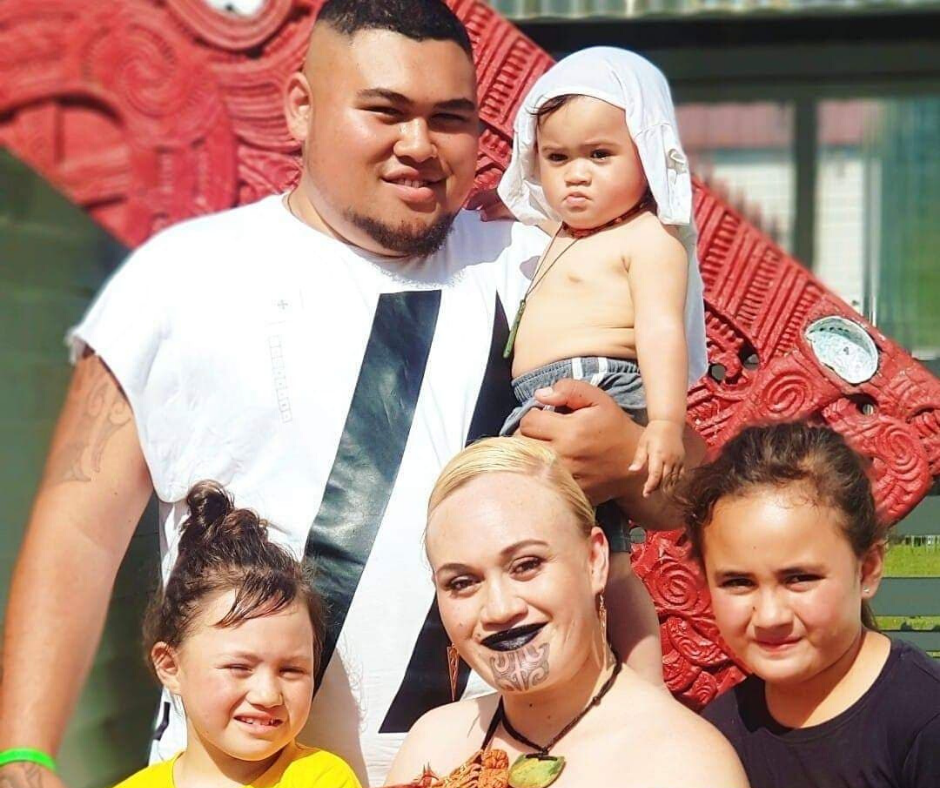 AWHINA KUREI - RANAPIA, KAIWHAKARURUHAU
Ngā mihi kia koutou ngā kaiwhakaruruhau o te āo
Ko wai au?
Ko Awhina Kurei ahau – He uri whakaheke tēnei nō Te Whakatōhea, Tūhoe, Te Aitanga-a-Māhaki, Te Rarawa me Ngāti Awa ki Te Arawa.
Last year was one of the best years of self-growth I have ever had. Mauri ora and my whānau within mauri ora realigned me to my `why' and I was able to continue walking in this world truly knowing what it is I want to do and who it is I AM.
3 weeks after graduating from my Mauri Ora learnings I was put to the test.
I supported my midwife in making a community stand to reopen the birthing unit here in Ōpōtiki. The DHB had suspended the service and expected pregnant Māmās from Whangaparaoa all the way through to Ōpōtiki to travel to Whakatane to have their baby.
Being hapū with my fourth baby at the time I wasn't going to have a bar of that. With the support of my midwife, our local council reps, my sister Janell, my whānau, my community, our local Waiariki MP and 5,000+ signatures on our petition government had informed DHB to reopen the service. This very day the birthing unit is open and accessible for māmās to still have their babies.
Secondly, whare kōhanga/home birth. I had the whakaaro of a home birth from the beginning of the year 2019. Mauri ora and reconnecting with tīpuna a lot throughout our wānanga that year I was able to stand tūturu to my whakaaro. I knew that is what I wanted and that is exactly what happened. My brother had passed away the day Wairāta was born so I really needed to tune into te āo wairua to give me the strength to focus on bringing baby into this world of ours regardless of the mamae that was upon us. Surrounded by whānau, happiness, tamariki, kai, waiata māori and karakia - Wairāta was born
Throughout Mauri Ora myself and 2 of my friends went into co-ownership of a local fitness centre here in Ōpōtiki. We were, and still are setting the foundations. The imperatives that Te Korowai Aroha stand under have been a huge focus point for me to action in this space, in providing a service for our people with Mana, Mauri, Tapū, Wairua, Tikanga, Whakapapa (and another imperative our Waiariki roopu found important to add was Te Reo Māori) and using these practices when connecting with our people to ensure we provide a service that is Tika and Pono with a lot of aroha - and with that Ihi Kura Te Mana Kaha ō te tāngata was born.
4 weeks after having baby I knew I had the strength to slowly but surely tune into my body and start strengthening it up again. Like tīpuna did many many times after having their many children we took some of our staff and instructors up to Auckland for a quarterly Les Mills instructor workshop. Wairāta came and spent the day with her cousin Te Āio, aunty and uncle while māmā was able to train. The last week since being isolated I have been able to reflect and refocus the love I have for Kurei Fit and where I want it to go supporting our people through hauora to live a healthy lifestyle for longer - continue to follow that journey here whānau Awhina Kurei Fitness
There are many successes and many trials I could share since graduating as a Kaiwhakaruruhau ā iwi. Mauri ora realigned my vision to see my capabilities and the power I have as an individual to support and shift the whakaaro of others with a te āo māori view in a world we live in today. But one thing I will always remember from our wānanga is that no matter where you go or what you do –
TRUST IN THE PROCESS
What will be will be.
Next journey, TKAA - Te Wāo Nui ā Tāne/Māhuri Tōtara